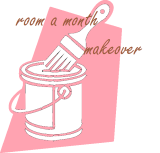 Sheri @ The Shades of Pink was sweet enough to invite me to her blog party, A Room A Month Makeover, so I gratefully accept the invitation, and I'm linking up with her too. Make sure to visit for other inspirational ideas!
Welcome, dear Bloggers, to another Metamorphosis Monday hosted by Susan @ BNOTP. Have I got a
MEGA MET
for you today! Many of you know I've been absent for a couple of months because of a flood in my basement. Well, the renovation bug bit me and Big Daddy once again, and one project led to another, namely my kitchen.

Whenever I post pictures here at the Lace and Ivy Cottage, I've always avoided shots of my kitchen. If the kitchen is supposed to be the heart of the home, then mine was in desperate need of a heart transplant!

We've lived in this home for 11 years now, and we've been renovating it ever since, but the kitchen was always put on the back burner because of the high cost of kitchen renovations. Well, about 8 months ago, Big Daddy and I finally decided to bite the bullet and tackle the job ourselves by removing and sanding some upper cabinet doors. That's as far as the renovation got. So, for the last 8 months I had no cabinet doors and an even uglier kitchen.


I have always hated this hideous florescent light box. It served more as a fly trap than a light source!

Here, I started testing out different kinds of white paint. Do you have any idea how many variations of whites there are in the paint stores? These overhead cabinets above the sink housed the only other light source, a dim light bulb that was burnt out half the time. I've been preparing meals in this cave for 11 years now!


Soon after we moved in, we pulled down some cabinets that hung from the ceiling above this counter that further enclosed the kitchen. I would have to duck my head in order to see people in the other room!


Don't you just love the dark stained oak cabinets with the ambient florescent lighting? NOT!

OK, we're almost done. Just try to remember this shot, because soon it will be just a distant memory.

More testing of paint colors.


Almost done, I promise. Since the job was too daunting for Big Daddy and I to handle by ourselves, we surrendered to the fact that we needed professional help. We ended up hiring some professional painters who did work on the side, and charged us a song for the labor. I know, this is a mortal sin for you do-it-yourselfers, but I was desperate!

Good riddance to that light box! My ceilings are only 8 feet tall, but without that box, it feels like 10! The overhead cabinet over the sink was pulled out, too. Look at the light flood in through the windows, even with plastic sheets over them. The primer is already a great improvement.


After witnessing all the prep work required before painting, I'm so glad we hired someone else do it. We would never have been able to do the job as efficiently.


Here's a peek at my new island.


Do you tablescapers out there recognize my dining room? My dining table is in there, somewhere. I can't believe the stuff I found in our kitchen cabinets. Wedding presents that I've never even opened!


Out with the old florescent light box, overhead cabinets, and dark stain, and in with new recessed lighting, chandelier, pendant lights, and creamy white paint!

Let there be light!


I decided to have the island painted black to compliment the black appliances. I've also kept the cabinet door off and replaced them with baskets for some added texture. Don't you just love the designer lingo? Yeah, I've been watching HGTV for way too long.


Do you like my plate rack? I got used to the open shelves over the 8 months without them, and decided to keep the doors off of these. Big Daddy installed the lights, cabinet pulls, and knobs.


We also cut out the center of these door and replaced them with glass.


Here's a closeup.We chose a seedy glass that lends to the overall vintage look.


I chose and oil rubbed bronze finish for the cabinet hardware. I had remembered reading a blog some time ago that recommended Target. I wish I could remember who it was so I could thank her. They were significantly cheaper there than either Home Depot or Lowes.

Even my old counters don't look so bad anymore.


At the last minute, I decided on this paint color. It's called Ozone by Behr and is part of a vintage color collection. I really like it. And in case you're interested, I chose Creamy White by Behr in high gloss for the cabinets. It really is amazing what paint can do.


I had some old lace and seashells around the house and quickly fashioned this valance. It may eventually change, but it's good for now. Best of all, it cost me nothing.

We're keeping the old stools, though painting them black is in the future. They've been here since the house was built in the 80's and have withstood the use and abuse of my family. Why change a good thing?

Hanging cabinets are now replace by stylish pendant lights.


Even the ceiling got a new coat of paint. No more ketchup stains...one word...KIDS!

One last look. Do you remember the old kitchen? Nah, neither do I!

Thanks for stopping by the Lace and Ivy Cottage. And as always, your comments make me smile!


Till Next Time,